© 2019 Just for Ponies
Store powered by Bigcommerce
JFP Blog
Posted by Sally Steinmetz on Jul 23rd 2017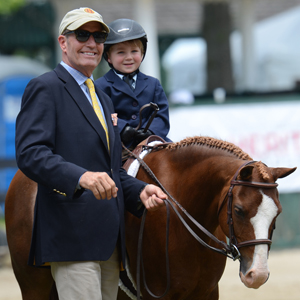 The leadline classes at the Upperville Colt and Horse Show are extremely popular with tons of entries and a huge crowd of spectators lining the ring, taking photos and encouraging the young competitors.
Upperville is the oldest horse show in the country, dating back to 1853. It attracts the nation's top ranking hunters and jumpers as well as local ponies, sidesaddle ladies and racing Jack Russell Terriers. In the leadline classes, you might see some of the top riders, trainers and handlers such as Scott Stewart, Snowden Clarke and Oliver Brown leading young riders on perfectly turned out ponies.
The leadline classes are held in the main ring under the canapy of majestic oak trees. Classes are offered for ages 1 -3 and for ages 4 - 6. Being Upperville, you'll ususally see a number of sidesaddle leadline entries along with leaders in fashionable hats or very traditional, horsey attire.
The attached photo is one of my favorites from this year with Snowden Clarke leading Ashton Maye. Check out our Facebook page for an entire album of 2017 Upperville leadline photos
Rosehaven Merlin, a Section B Welsh pony, went to his first Welsh show of the year this past weekend. Being a two year old, he just shows in hand at the walk and trot. Classes at Welsh breed shows are divided by section and then by sex and age. Geldings compete in their own [...]
A cold snap following a snow storm this past week was some of the worst winter weather we've experienced in Maryland so far this year. And on one of the coldest nights, a little filly decided it was her time to be born. After drying her off she was still shivering even though she was [...]
Introducing Bella'Mar Barski (on right) - a 10 year old, up and coming equestrian entrepreneur! In her own words, "I invented the TackSaver when i was 9 because i was using a rag and sponge to clean my saddle and i was tired of getting my hands all icky. I love my invention and [...]
Hi! It's me, Posey. I'm a 9 month old Welsh Section B filly and I just got my first turnout! My full name is Rosehaven Pocketful of Posies but everybody calls me Posey. It got really cold and rainy and there was even some white stuff mixed in. So my owner put a new Rhino [...]
Two Rosehaven ponies, Rain Belle and Minuet, are heading south for warmer weather! They're lucky to be missing the frigid, windy conditions that have descended upon Maryland. They both have 5" pony standing bandages over Wilkers pillow wraps - a very traditional and safe way to wrap your ponies legs for traveling. [...]
We recently received this wonderful photo from one of our customers. Six year old Emilia Richard, aboard Champlain's Irish Cream, is showing in her first CHJA Medal Finals held at the Fairfield County Hunt Club in Wetport, CT, August 19 - 21, 2016. What a team they are! Emi probably has many years of riding [...]
Rosehaven Merlin went to his first hunter breeding show last weekend. He's a Welsh Section B yearling and even though he went to one Welsh show this summmer, this was quite a new experience for him! He had a trailer ride, a new stall and got to see lots of horses and ponies. His [...]
We love having visitors to our farm and so do the young ponies! There's just something magnetic about foals and kids. I guess it's that the foals are happy to have someone 'their size'. Recently, KiMani and Victoria, local pony riders, came for a visit and were thrilled to go in the paddock and visit [...]
We love hearing back from our customers, especially when they send pictures! Here's an example of what we receive - obviously one happy kid and one proud dad. This is what makes our day - that smile says it all!
Loading... Please wait...